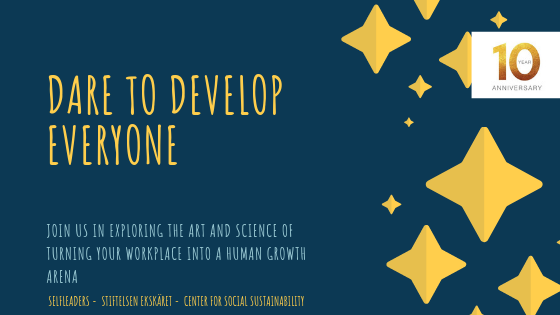 20 feb

Full day seminar with SelfLeaders, Ekskäret & CSS – 26th of April 2019

Details

Date:

April 26

Time:

08:30 am - 05:00 pm

Venue

Karolinska Institutet

Bergzelius väg 3, Stockholm

Stockholm, Stockholms län, SE
Dare to develop everyone*
*Yes, everyone – not just management!
Join us in exploring the art and science of turning your workplace into a human growth arena.
What is adult development and why should we care?
Can a culture of growth benefit the business of organizations?
What role can organizations take in the changing world of tomorrow?
The latest research applications in the business world help us understand how we can align human and organizational potential. We welcome you to a day where we explore human development together with world famous researchers and visionary CEOs and HR-executives.
Agenda
(will be updated continuously)
Our scientific and philosophical morning features…


Thomas Björkman (Founder Stiftelsen Ekskäret)


Susanne Cook-Greuter (Harvard)


Kristian Stålne (Malmö University)


Christin Mellner (Stockholm University)


The afternoon will kick off with our rockstar professor and Key note speaker Robert Kegan, followed by voices from the business…


Interactive experience (Selfleaders)


Katarina Berg (CHRO, Spotify)


Maria Rönnberg (HR Executive, Telia Sweden)


… and more
---
Participation fee:


Company representative: 2 450 SEK/person (incl. VAT total: 3 062,50 SEK)


Academic representative: 750 SEK/person (incl. VAT total: 937,50 SEK)


Student (limited spaces): 250 SEK/person (incl. VAT total: 312,50 SEK)


Fee includes:


Refreshments and coffee upon arrival


Lunch


Refreshments and coffee during afternoon


Access to SelfLeaders digital tool ValuesTree during 12 months


Your intangible goodiebag will include:


Unique opportunity to meet top researchers from KI and Harvard


Tools to develop everyone


A glimpse of thriving organizational cultures


The event is organized as part of the 10-year anniversary of SelfLeaders and Stiftelsen Ekskäret, in collaboration with the Center for Social Sustainability (CSS) at Karolinska Institutet.
The registration is binding but you can change the name of the ticket holder after purchase.